The following information is very valuable for choosing a Target Type for a character's Powers. The Atomic RPG System system has a huge variety of options of Target Types, allowing Powers to be both versatile and effective.
There is a wide variety of shapes to choose from for the area of a Power with a Target Type of Spaces. Below are some templates you can use for your Powers. These are not the only shapes that are possible, but they should provide some ideas for the Power Shape.
If for some reason the above power shapes do not work for a character you can design a custom shape. It can be almost any shape. The main rule for creating custom shapes is that all of the spaces within the shape must be contiguous. Sketch the shape out on graph paper for Game Master approval.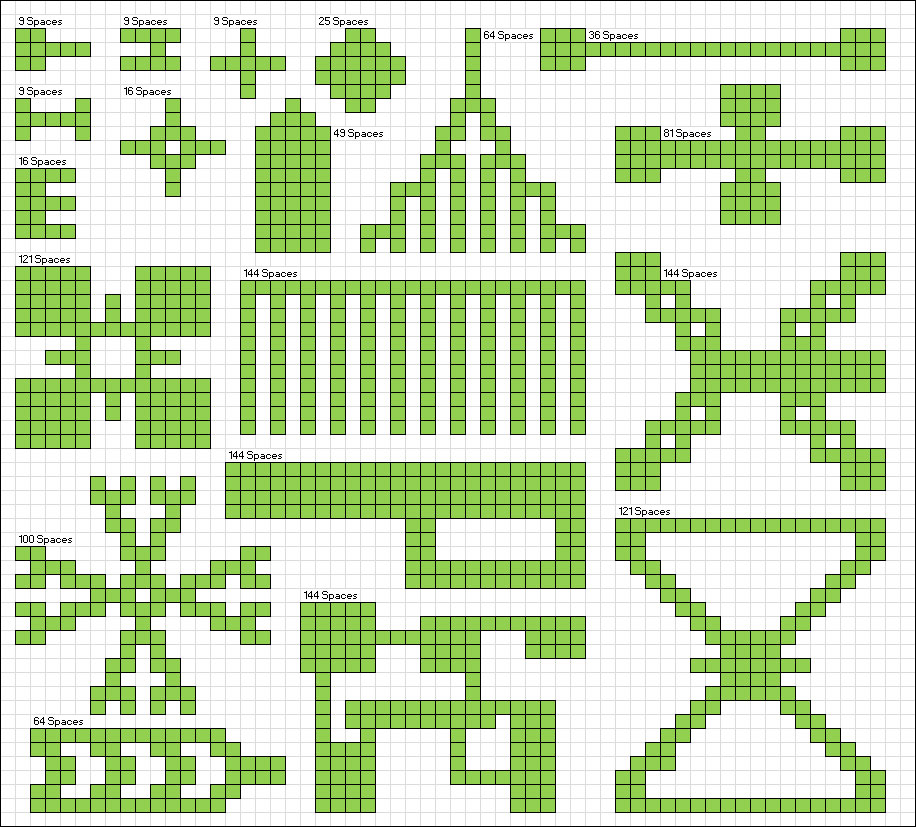 Examples Uses: Custom Temple Trap, Large Scale Battles, First Floor Trap. Military Defenses
Area Effect Rule Samples and Applications
Here are some examples of area shapes and their uses. These diagrams layout some of the more common Power area's that are used. These include obstructions that characters or their enemies can use to protect themselves from powers or possibly granting cover from Powers.
There are so many different types of Targets that can be selected in the Atomic RPG System that players should be able to create any effect they want with their custom Powers. Look through the Atomic RPG System Power Database to see what other players have created for ideas.
Create your own custom worlds easily in any genre or setting online for use at the tabletop!
Play for free as long as you want! Take your time to see just how flexible the Atomic RPG is with it's combination of digital tools, balanced rules, and ease of play.